With her artwork adorning walls across the world and her one off fashion pieces gracing the backs of celebrities, this Birmingham based babe is just getting started…
After an exciting week, which saw North West (Kim K and Kanye's little babe) strutting her stuff across Kourtney Kardashian's Instagram account wearing one of Elizabeth's hand painted, custom leather jackets, we knew we wouldn't be the only ones to of "Woke up and felt the vibe". With an insane exposure of her designs to 53.2M followers, we predict exciting things lay ahead for the young artist. To hear the latest with Elizabeth READ ON!
We'd describe your style as distinctive, outspoken and celebratory of the female form (insert heart eyes). How do you want your designs to make women feel? 
The best feeling is when women tell me that they are feeling inspired and strong when wearing anything of mine, because that's exactly how I want women to feel. When I wear a leather jacket or trousers I feel tough and it's kind of like an armour for me.
At Haus of Hyde were constantly picking up inspiration?- whether it be from social media, places of interest or ripping the pages from magazines (much to others annoyance). We use it to feed our mood boards and set the tone for designers were looking for. How do you get inspiration for your work? 
I get inspiration from real life situations as my work can be very personal, also from the music I'm listening to at that time, and what's going on in the world. 
Other artists have said that the style they've become known for has become theirs organically. Would you say this is the same for you?
I would say my creative style is mine organically, its taken from the music I've grown up listening to, pink and red always being my favourite colours, my own personality and my voice plays a huge part in it.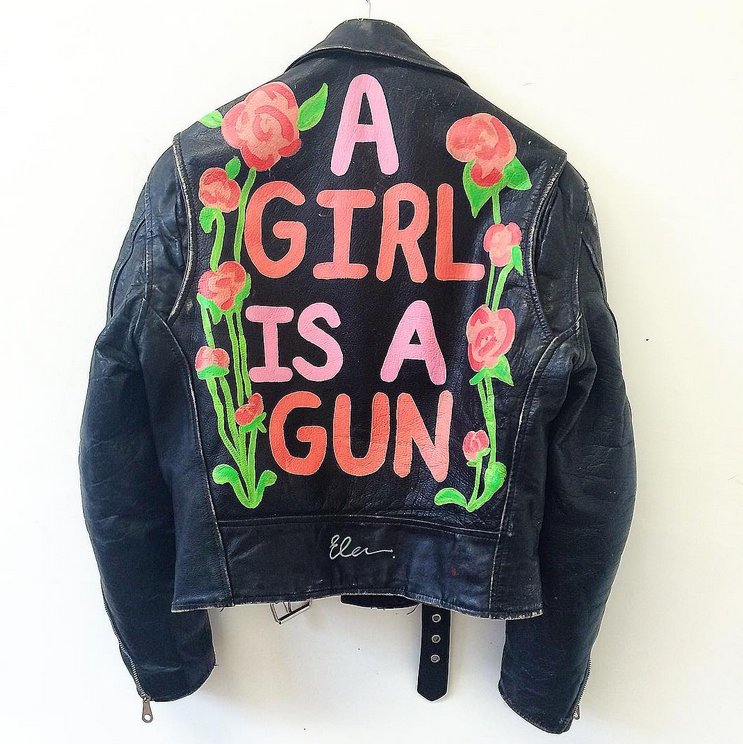 Due to the provocative nature of your work, have you ever encountered any set backs? 
I've had a few hurdles in my career, like being restricted to show certain works due to the content of my prints, and generally logistics of what I do can be pretty frustrating but that comes with the job! 
When creating a custom piece what is most important to you? 
With custom piece's I feel nervous because I want to meet the client's expectations of my work, so I take much longer on them than on my ready-to-wear because I want them to be as neat as possible. 
Quick Fire
Personal style: I would say my style is 'confusing' haha! I like to wear army boots with summer dresses and pink fluffy jumpers with PVC trousers.
Fave blog: Pandora Sykes is a great blog and she's just so lovely too. 

Most used phrase:  'We're all friends here.'
Instagram you'd take over: All the fake Elizabeth Ilsley instagram accounts so i can name and shame and take them down!

Love to wear: Dr. Marten boots. 
Is there anything you collect?: I collect photographs that I take of my friends, lipsticks and books. 

Neon or natural?:  Natural.
Minimalist or Maximalist?: Maximallist! 
If you could live anywhere…: Probably New York even though I've never been! 

Fave design (by you):  Probably the 'Girls Support Girls' jacket

Highlight so far: Doing my own solo show at Moosey art in Norwich, a solo show has always been my dream. 
Whats next?:  Next is more art shows, more collections, loads of collaborations. It's going good!

So there you have it. In the current climate and the political inspired fashion on this years runway Elizabeth Ilsley is making her name heard. If you want to nab one of her custom made designs, marvel at her witty one liner art pieces or just (like us) crush over her coolness then head over to 
http://www.elizabethilsley.com/